Paper presented by Prof. George Menachery
(kunjethy@gmail.com 0091-9846033713)
at the Muziris International Seminar,
Christ College, Irinjalakuda,
Sept. 8 – 11, 2013:
"The Maritime Importance of Muziris
as Described by
Roman Historians and Poets,
& other writers. in the First Centuries BCE/CE "
As Inspiration for Undertaking a Modern Day Muziris - Red Sea Sail Ship Voyage.

Prologue:
Allow me to put my last para first by bringing to the attention of the learned scholars present an item from the Hindu dated January 21, 2012 which more or less summarises what I want to say here at the end of this paper.



Re-enact Muziris voyages, KHA tells Navy
K.A. MARTIN & S. ANANDANThe HINDU



Defence Ministry told to take the lead in rebuilding such a vessel at Beypore


The Kerala History Association (KHA) headed by jurist V.R. Krishna Iyer has urged the Indian Navy to join hands with the Departments of Cultural Affairs and Tourism to re-enact the voyages of ancient trade vessels from the ancient port of Muziris to the Red Sea around 2000 years ago.
In a key resolution, passed early this month, the association asked the Union Defence Ministry to take the lead in rebuilding such a cargo vessel at Beypore,
a historical boatbuilding hub in northern Kerala renowned for its esoteric technology adept at building 'urus' [cargo sail yachts] using locally available timber and coir.
The association felt that recreating a cargo vessel that plied the seas from Muziris to link ports in the Red Sea on the Egyptian and the Yemeni coasts would highlight the strong historical links between the two important regions of the world besides bringing to the world's attention their cultural exchanges.


Historian K.N. Panikkar endorsed the idea when he told The Hindu on Friday that it would be good if the Navy undertook such a mission.


He recalled that such efforts had been made in other parts of the world, including in the recreation of journeys along the old Silk Route.


It must have taken 40 days to reach Muziris from Egypt by sea in the olden times, said George Menacherry, a historian, who piloted the resolution at the association's meeting.


He, however, added that the 'Jewel of Muscat,' (later, "The Jewel of Oman") a replica of the late first-millennium trading vessel that sailed around the world, jointly created by the Sultanate of Oman and the Government of Singapore, had shown that the journey would take just 27 days now [according to Omani Navy Captain Jabri of the "Jewel" with whom this writer compared notes for hours].


Approached for its comments, the Navy said although it had not received the proposal yet, it would study the merits of the project before taking a call on that.


"While the Navy has always taken a keen interest in understanding, conserving, and contributing to build upon the rich maritime history that India boasts, collaboration in such ventures require decision at the highest-level," said Navy sources.


In the State, the Navy has earlier assisted the archaeological excavation team at Pattanam (where vestiges of Kerala's trade with the Mediterranean countries were exhumed) by sending its deep-sea divers to conduct underwater surveys.


It sustains a chair on maritime history at Calicut University and the local chapter of the Maritime History Society is headed by the Southern Naval Command's Flag Officer Sea Training (FOST).
When the 'Jewel of Muscat' (Jewel of Oman), currently installed as a maritime history museum in Singapore after a historical sail along the ancient Middle East
and the Far East, was constructed in Oman on the lines of a shipwrecked ninth-century cargo vessel, uru-builders of Beypore were called in to build it.
Built without nails or screws and with planks sewn together using coconut fibres, the sail yacht was made by over a dozen carpenters and rope-makers from Beypore.


"There was a time when the boatbuilding industry here (Beypore, Kerala) had its hands full, building about 60 urus simultaneously. Even now, they build about six to seven urus for foreign customers who use them for tourism promotion. They recently constructed one for a French customer. Exponents of the esoteric technology of uru-making are not many now. But still there are a few and scores of workers are employed by them to carry out the job. They can create mock-ups of ancient ships as well," said M.P. Padmanabhan, INTUC national leader and an authority on the subject.


Recreating the vessel will highlight the links


'Such efforts made in other parts of the world'

Here's a Replica of the 9th Century Craft "Jewel of Oman"that sailed the Indian Ocean arriving in Kochi and then sailing away to Singapore. The glorious example of Indian Navy's Abilash can also be studied.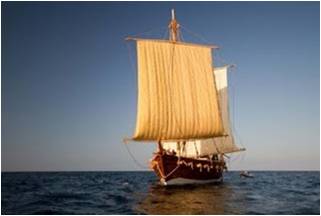 Kerala Workmen from Beypore, using Coir Ropes and Teakwood on the Jewel of Oman,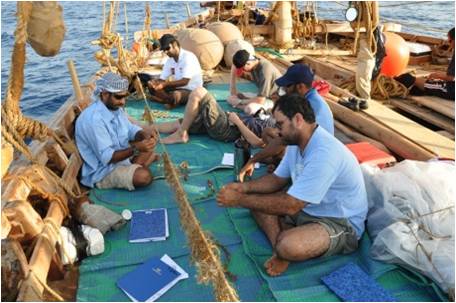 The Jewel of Oman (Inside View)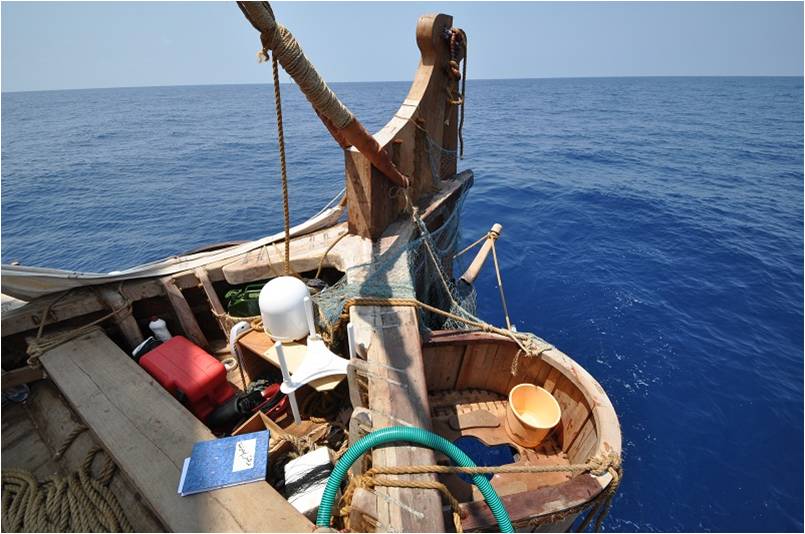 1.00


In the title of this paper the term "Muziris–Red Sea Sail Ship Voyage" is used as if this writer is quite certain about the exact location of Muziris. When this writer wrote the chapter on Muziris in the work "Kodungallur…" (first published in 1987) there was to be found near- unanimity of opinion about the location of Muziris among the vast majority of 20th Century historians. This unanimity of opinion continued more or less until the book was reprinted in 2000 and its contents published on the net. Until quite recent times, most historians believed, with many generations of people down the centuries, that Muziris was Cranganore or Kodungallur.

Location of Muziris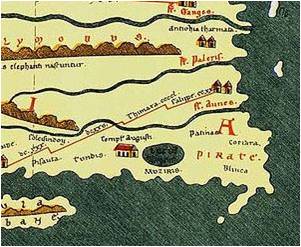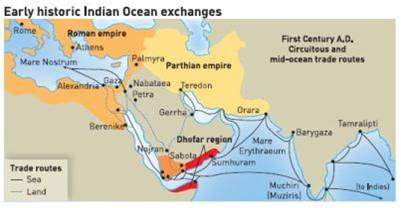 Ptolemy has E. Long. 117.00 and N. Lat. 14.00 for Muciris Emporium and 117.20 and 14.00 for the Azhimukham (Pseudostomas). See K.V. K Ayyar, A Short History of Kerala, Ernakulam, 1966, Appendix II, pp. 193, 194, 195 for some two score and ten places in the area mentioned by Greek and Roman authors of the century between c. 50 and 150 A.D. Later calculations are also available today.
Here are a few other authors who have identified Muziris with Kodungallur:
P.Padbanabha Menon: "Pliny described Cranganore as primum emporium Indiae " (actually Pliny says this about Muziris). And again, " Situated on the western sea-board at a point where the river system that afforded untold facilities for communication with the interior opened its mouth into the sea, Cranganore formed a great emporium of trade from very early times" from where "The Phoenicians, the Egyptians, the Greeks, and the Romans, each in turn, carried on commerce with the East." [History of Kerala, I, Ernakulam, 1924, p 297]

K.M. Panikkar : "The great hoards of Roman coins discovered in Kerala bear ample witness to the extensive character of this trade."
[Here this writer would emphasise the coins from Eyyal, near Kunnamkulam, and Valuvally, near Parur of 80 years from Agustus to Nero].
 
Under Nero, Rome annexes Aden to protect the maritime route between Alexandria and Asia.



1.Caesar Augustus' Gold Coin 2. Eyyal Hoard punch-marked coins(cf. Gupta, pic Menachery ) 3. Nero Gold Coin 4.Parur Hoard Roman Gold Coins (cf. Satyamoorthy)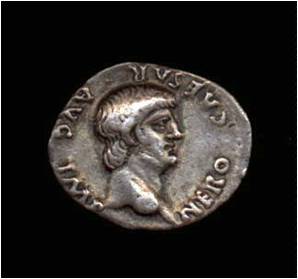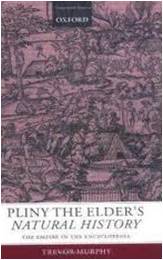 [During this writer's first term on the Archaeology Advisory Board of the Kerala Govt. 1975-78, if I remember right, fellow members Dr. K. V. Raman, Dr. T. K. Ravindran, Dr. M. G. S. Narayanan subscribed to the view that Muziris was Kodungallur]
Panikkar continues:"The main port in Kerala which was the centre of this trade, as Pliny says, was Muziris or Cranganore. It was known in Kerala as Muyirikkodu - it is so mentioned in the so called Christian plates. The earlier Tamil poets allude to it as Mucciri. Periplus mentions that Muziris is a city at the height of prosperity frequented as it is by ships from Arriake and by Greek ships from Egypt. The exports of Kerala consisted mainly of 'pearl in considerable quantity and of superior quality; pepper in larger quantities and gems of every variety'. " K.M. Panikkar, A History of Kerala, Annamalai Nagar, 1959, p.3.
Some others who equate Muziris with Kodungallur:
Galletti, The Dutch in Malabar, Madras 1911, p.9 (Introduction v)
V. Nagam Aiya, Tr.St.Manual (in 3 vols.), Vol. I, Trivandrum, 1906, pp. 231-232
T. K. Velu Pillai, TSM (in 4 vols.), Vol.II, 1940, p.10
Yule-Cordier, Cathay and the Way Thither, London.
Vincent Smith quoted in T.K. Velu Pillai, op-cit., vol.II. p.10
Bjorn Landstrom , The Quest for India , Stockholm, 1964, (Double day English Edition). p.48
K.V. Krishna Iyer, Kerala's Relations with the Outside World, pp. 70, 71 in "The Cochin Synagogue Quatercentenary Celebrations Commemoration Volume", Kerala History Association, Cochin, 1971.
There are many more statements by a plethora of writers taking for granted that Muziris is Kodungallur.
But in recent years, especially after the excavations at Pazhnam or Pattanam by Shajan followed by others, there is a tendency among a group of scholars to doubt the location of Muziris, hence what is accepted more or less universally is that Muziris is on the west Coast of Malabar, possibly in the vicinity of Kodungallur in the Parur-Chetwa belt.
This divergence in the views of scholars does not however affect the position that large quantities of Kerala goods and goods that arrived in Kerala from various points were exported from Muziris.
3 aspects of Muziris Trade in Roman & Greek writers
2.00 The writings of early writers both of the east and the west bring out mainly three aspects of the Muziris trade, one: the products exported from Muziris and the demand for Muziris exports at Rome and elsewhere in the Empire, two: the extend of the Muziris trade and its economic impact, and three: Muziris location, route and modus for the transportation and the duration of the trips by land and sea to and from Muziris.
Gk. & Roman writers we have examined speaking about India and/or Muziris include:
Arrian: 2nd Century A. D. Greek author; Anabasis-Famed Greek prose history by Xenophon of "Retreat of the Ten Thousand from Persia" (c. 399 B. C.).
Juvenal the poet. Author of the Periplus. Pliny the historian.Strabo : (Born around 63 B.C. and died after A. D. 21). The only extant work of this Greek geographer and historian, a geography in 17 books, is a rich source of ancient knowledge of the world.
Plutarch : Greek biographer and essayist (c. A. D. 46-120): "The Lives" have charm and historical value. There are 46 paired Greek and Roman biographies and 4 single biographies in it.
Herodotus : (484? - 425? B. C.) Greek historian, called 'Father of history'. The rich diversity of his contemporary secular narrative history makes it an important source book on ancient Greece.
Diodorus Siculus : Died after 21 B. C., Sicilian historian. Author of world history in Greek, ending with Gallic Wars; of its 40 books I - IV and XI-XX are fully preserved.
Gk. & Roman writers we have examined speaking about India and/or Muziris include (Contd.):
Ptolemy : Greco-Egyptian astronomer, mathematician and geographer born around 100 A. D., fl. 127 to 147or 151- Geographike Hyfegesis.
Megasthenes : He was sent in 302 B. C. by Selukos, king of Syria as ambassador to Chandragupta and remained for some time with the Indian kings, and wrote a history of Indian affairs, that he might hand down to posterity a faithful account of all that he had witnessed.
Deimachos : Sent to Bindusara by Antiochus Soter, the successor of Selukos. He also wrote a book about India.
Dionysios : Ptolemy Philadelphus of Egypt sent him to Pataliputra as ambassador "to put the truth to the test by personal inspection". He also wrote a book on India.
Aspect One : the products exported from Muziris and the demand for Muziris exports at Rome and elsewhere in the Empire
3.00 As the information available from the western sources is so large we shall mention only a few details of the Muziris export trade are mentioned. Pearl, diamonds, sapphire, ivory, silk, pepper, other spices and precious stones, possibly sandal and yarn were exported. As pepper and pearls have pride of place among Muziris exports we shall restrict ourselves to these two commodities here, for lack of time and space.
Lollia Paulina's Pearls

3.01 Let me here introduce Lollia Paulina. It is Pliny the Elder, author of the 37 volumes of Natural History who speaks in detail about her.
1.Pliny 2.Lollia 3."Natural History"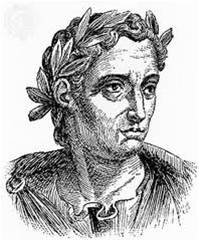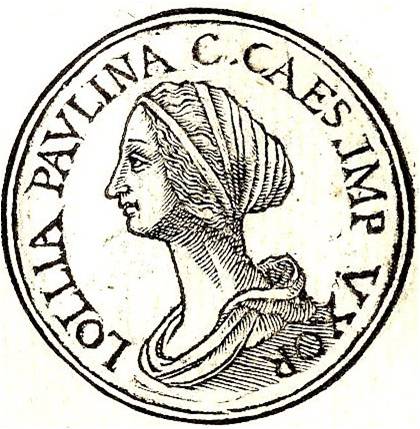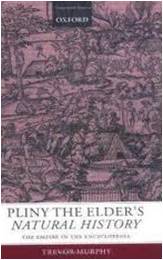 Pliny Describes Paulina's Pearls
3.02 "I once saw Lollia Paulina, the wife of the Emperor Gaius - it was not any solemn ceremonial, but only at an ordinary betrothal entertainment - covered with emeralds and pearls, which shone in alternate layers upon her head, in her hair, in her wreaths, in her ears, upon her neck, in her bracelets and on her fingers, and the value of which amounted in all to 40,000,000 sesterces; indeed she was prepared at once to prove the fact by showing the receipts and acquittances".


3.03 "Our ladies glory in having pearls suspended from their fingers, one, two or three of them dangling from their ears, delighted even with the rattling of pearls as they knock against each other; and now, at the present day, the poorer classes are even affecting them as people are in the habit of saying that ' a pearl worn by a woman in public is as good as a lictor walking before her': Nay even more than this, they put them on their feet, and that not only on the laces of their sandals, but all over the shoes; it is not enough to wear pearls, but they must tread upon them, and walk with them under foot as well".
PEPPER : YAVANA PRIYA
4.00 The chief commodity exported from Muziris was pepper and the fair reputation of Malabar pepper had already reached the four corners of the known world from the early centuries B.C. So much so it is called Yavana Priya (beloved of the Romans). In addition to what the Periplus has to say on the area where pepper is produced in Malabar (56), we also have there a list of ports (viz. Thundis, Muziris, Nelcynda and Barace) from which pepper was exported. Cosmas Indicopleustes in the 6th century speaks of 'Male where pepper
grows' and of 'Male which has fine marts
that export pepper'

Sangam Poet PARANAR on Roman Pepper Trade at Muziris
4.01Puram 343: "Fish is bartered for paddy, which is brought in baskets to the houses; sacks of Pepper are brought from the houses to the market; the gold received from ships, in exchange for articles sold, is brought on shore in barges at Muchiri, where the music of the surging sea never ceases, and where Kudduvan (the Chera king) presents to visitors, the rare products of the seas and mountain". [It was truly an emporium or entrepot (like Dubai or Bahrein today) where products from all over South India were traded]


Note by GM on 343 in a paper at the First World Malayalam Conference, Trivandrum, 1977: " The passage in 343 (Paranar) which says that the gold (gold ornaments) brought by ships arrive on the shore in boats (thonis) corroborates what Pliny mentions in 6.23 (26): 'besides, the road-stead for shipping is a considerable distance from the shore, and the cargoes have to be conveyed in boats, either for loading or discharging'. It also explains the term psudosthomos used by the Roman.
Erakkaddur Thyankannanar on the Pepper Exports to Rome
4.02 Erakkaddur Thyankannanar : 
The early Tamil poet Erakkaddur Thyankannanar describes Muchiri (Muziris) situated near the mouth of the Periyar as follows:
"The thriving town of Muchir - where the beautiful large ships of the Yavanas, bringing gold, come splashing the white foam on the waters of the Periyar, which belongs to the Cherala (Chera or Kerala) and return laden with pepper." (Aham 148)
[It is surprising why some pundits are searching everywhere else except near the Periyar for a port specifically described as existing at the mouth of the Periyar. The absence of any passage from the Sangam period in Kerala Text Books also is a mystery.]



And here's Pliny on Pepper Imports
4.03 Pepper was in great demand in Rome at the time of Pliny.
"It is quite surprising that the use of pepper has come so much into fashion, seeing that in other substances which we use, it is sometimes their sweetness, and sometimes their appearance that has attracted our notice; whereas, pepper has nothing in it that can plead as a recommendation to either fruit or berry, its only desirable quality being in certain pungency; and yet it is for this that we import it all the way from India. Who was the first to make trial of it as an article of food? And who, I wonder, was the man that was not content to prepare himself by hunger only for the satisfying of a greedy appetite?" Pliny, 12.7 (14).
Aspect Two: extend of the Muziris trade and its economic impact: Muziris Vienna Papyrus


5.01 When did Egyptians start trading with Muziris is not known, but a document discovered in Egypt in 1980 and first published in 1985 confirms that by 2nd century AD it was well established. Known as the Muziris papyrus or the Vienna papyrus it is now preserved in a  Vienna Museum. This papyrus document mentions a loan agreement made by an Egyptian merchant and a merchant in Muziris, for exporting Gangetic Nard, Ivorys and textiles. It also estimates the value of goods and a 25% tax for the items.
That Egyptian merchant gave this agreement to the Roman government as a guarantee for a loan and that is how this agreement survived through the ages. This discovery has opened a strong base to ancient international and trade laws in particular and has been studied at length by economists, lawyers as well as historians. Cf.f.i.Frederico de Romanis, various papers.

TheVienna Muziris Papyrus
5.02 Vienna Muziris Papyrus (Latest 2nd-3rd century AD)Casson remarks: - One of the great contributions of the papyrus is the concrete evidence it furnishes of the huge amounts of money that the trade with India required. The six parcels of the shipment recorded on the verso had a value of just short of 1155 talents almost as much as it cost to build the aqueduct at Alexandria. The parcel of ivory and the parcel of fabric together weighed 92 talents and wereworth 528,775 drachmas. A Roman Merchantman of just ordinary size had a capacity of 340 tons; it was capable of carrying over 11,000 talents of such merchandise. And the weather conditions on the route to India were such as to require the use of vessels of at least this sizeLoaded with cargoes of the likes of that recorded in this papyrus, they were veritable treasure ships.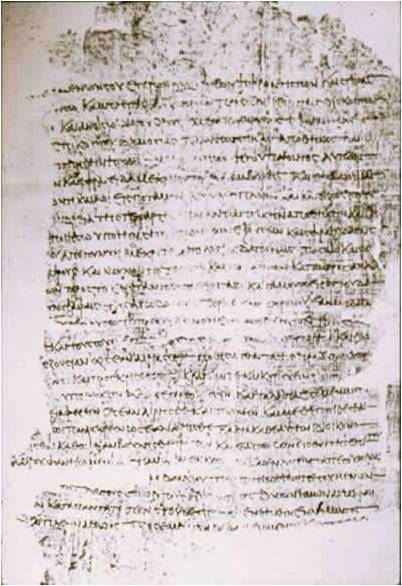 Pliny on Drainage of Roman Gold to India

in spite of Pliny's complaints this demand for pepper continued in Roman circles. The continued use of it inCooking raised its price to 15 denarii a pound for long pepper, 7 for the white, and 4 for the black pepper. This vigorous trade in pepper and other spices of India began to drain the Roman Empire of its wealth. Pliny is stupefied at the thought of this drainage. He says; "The subject (of setting forth the whole route from Egypt to India) is one well worthy of our notice, seeing that in no year does India drain our empire of less than five hundred and fifty millions of sesterces, giving back her own wares in exchange, which are sold among us at fully one hundred times their prime cost".

Some 300 years later pepper was still valued highly in Rome. Alaric the Goth King of the Visigoths we find, asking for 3000 pounds of pepper as an important part of the ransom to raise the siege against Rome. (Gibbon, Decline and Fall, XXXI)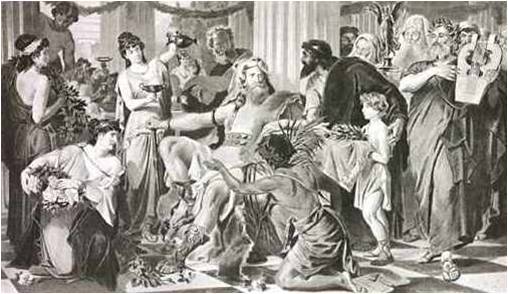 The Mammoth Jeronimos MonasteryA World Heritage Monument; Vasco da Gama's final resting place built from  just 5% (150 lbs. gold yearly) of Portugal's East. Revenue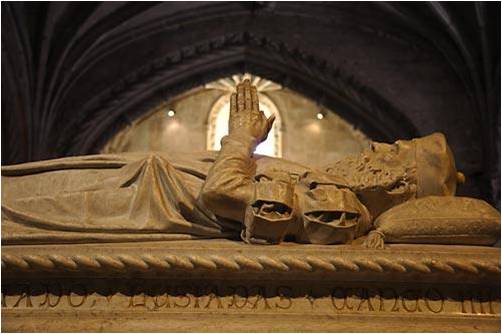 Jeronimos Monastery built from a small %age of  Portugal's Oriental Revenue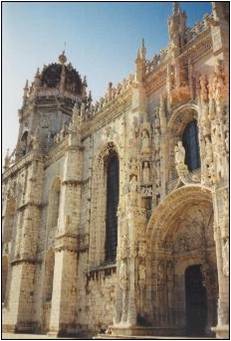 First Century ROMAN Gold COINS in Kerala


Large numbers of Roman coins have been discovered on the Malabar coast (e.g. from Eyyal between Cranganore and Palayur, and from Kottayam in North Kerala). In 1984 more than a thousand Roman gold coins were found buried in Parur, also not very distant from Parur - Cranganore. What is interesting is that the majority of these coins belong to a period of some 80 years from Augustus to Nero (B.C. 27 to A.D. 68).
The Periplus has this remark, "There are imported here (to Malabar Ports), in the first place a great quantity of coin,...." The Roman could, it is believed make a profit on the sale of gold coins in India, [as even today] perhaps because these were not only used as currency but also for ornament as is evidenced by the fact that many gold coins found in Kerala have been pierced through.



"History of Modern Europe is the history of the quest for Indian goods." "All of world's Gold and Silver ends up in India"


About Europe in general and England in particular which was the last western power involved with India it has been said, "the history of Modern Europe and emphatically of England, is the history of the quest of the aromatic gum, resins and balsams, and condiments and spices, of India etc. "
"it should not escape notice that gold and silver, after circulating in every other quarter of the globe, come at length to be absorbed in Hindustan. " Edward Farley Oaten, European Travellers in India, 1909, introduction, p.14.
  When Persia and Egypt fell beneath the power of the Arabs one of the spoils of their victory was the Indian Trade. Herodotus tells us that India is the wealthiest and most populous country on earth. As Sir George Birdwood has remarked. "The entire record of the intercourse between countries of the west and India from the very earliest times to the present day may be said to be the story of the struggle for the Indian trade"Sir George Birdwood,  p. 101; E. F. Oaten, p.8. 



Aspect Three: the route and modus for the transportation and the duration of the trips by land and sea
Pliny : Pliny the Elder (Caius Plinius Secundus, A.D. 23-79), Roman naturalist has left us in his Encyclopedic Natural History, in 37 books, a prodigious collection of second hand information. In his description, given below, we have accurate accounts of the journey to India and to the Malabar coasts in the first century.
"To those who are bound for India, Ocelis is the best place for embarkation. If the wind, called Hippalus happens to be blowing it is possible to arrive, in forty days at the nearest mart in India, Muziris by name. This however, is not a very desirable place for disembarkation, on account of the pirates which frequent its vicinity, where they occupy a place called Nitrias, nor in fact, is it very rich in articles of merchandise.
All the details of a return trip from Red Sea to Muziris are given by Pliny
Besides, the road stead for shipping is a considerable distance from the shore, and the cargoes have to be conveyed in boats, either for loading or discharging. At the moment that I am writing these pages, the name of the king of this place is Caelobothras. Another port, and a much more convenient one, is that which lies in the territory of the people called Neacyndi, Barace (Porakkadu) by name. Here king Pandion used to reign, dwelling at a considerable distance from the mart in the interior, at a city known as Modiera (Madura). The district from which pepper is carried down to Barace in boats hollowed out of a single tree, is known as Cottonara."
 
Concerning the return journey, Pliny thus continues; "Travellers set sail from India on their return to Europe, at the beginning of the Egyptian month of Tybia, which is our December, or at all events before the sixth day of the Egyptian month Mechir, the same as our Ides of January; if they do this they can go and return in the same year. They set sail from India with a south-east wind, and upon entering the Red Sea, catch the south-west or south."
2000 yr. old statue of Ostia Antica. Os. Ant. can shed much light on the arrangements at and fate of Muziris.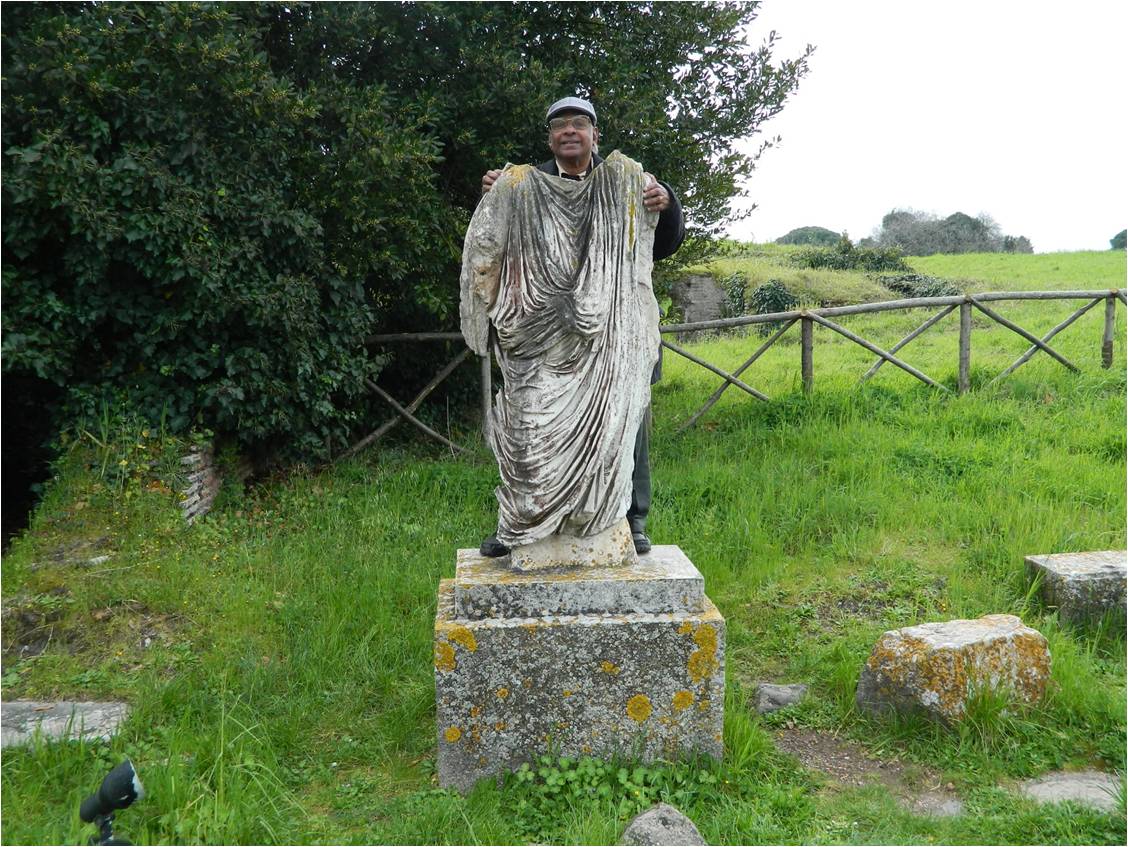 Only Geology and Archaeology can explain how Muziris vanished in ca.5thC.
This writer's close personal study and investigation of Mukkalla, Socotra, the Red Sea coast, and Ostia Antica has given some ideas concerning the Muziris port's final disappearance. Only Geology and Archaeology combined with Ocean Studies and the political history of Rome can explain how Muziris vanished in ca.5thC.
Ostia Antica Amphitheatre : The Ghost of Hamlet's Father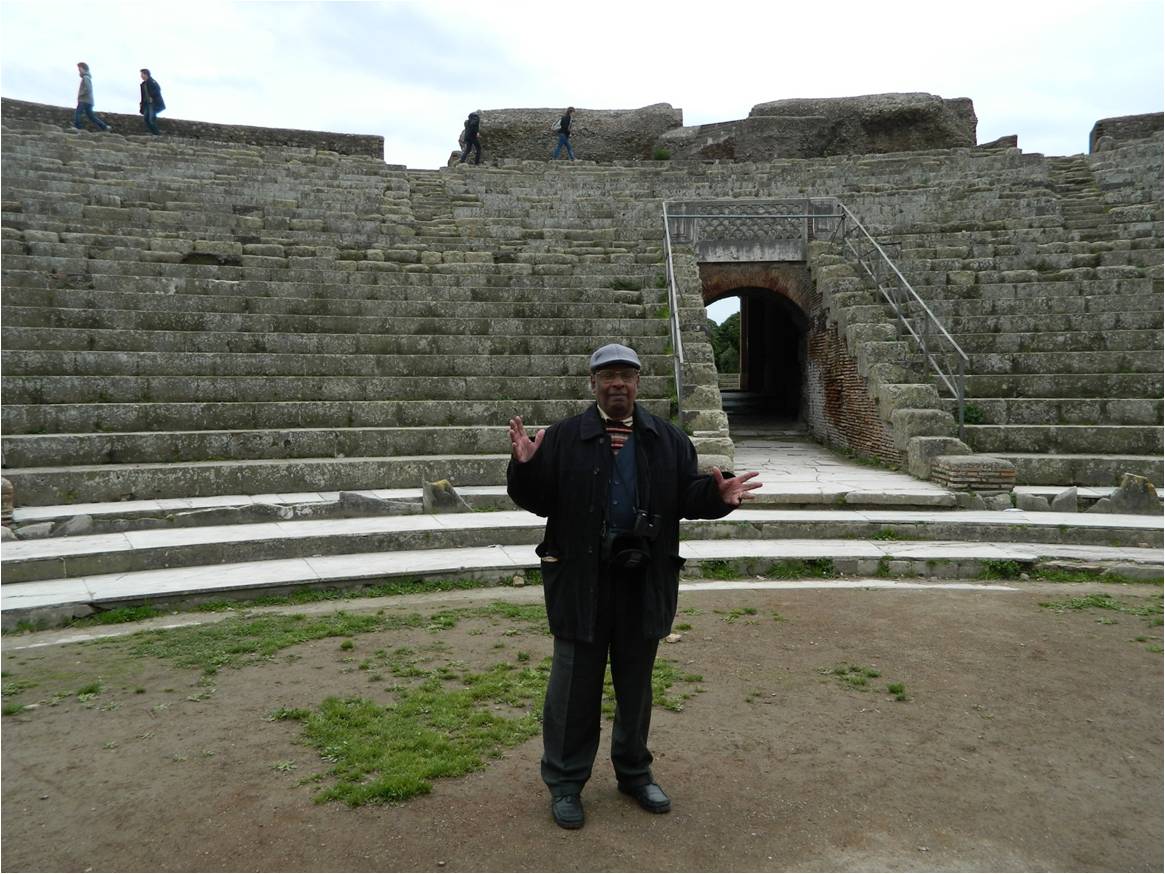 Let this congregation of scholars Pass a Resolution to arrange a Muziris-Red Sea Sail-Ship Voyage
For lack of time and space let me conclude. Let us work for re-enacting a Muziris Red Sea Sail Ship voyage as described at the outset of this paper, with assistance from the Navy, the Tourism Dept., and the Cultural Ministry at Delhi and at Trivandrum. Cf. the Hindu story supra.